If you've heard of Carlos Gomez, or you're a baseball fan in general, you probably remember this, when he walked half way up to first base on a leadoff home run against the Braves. He then exchanged words with every player in their infield, eventually being stopped by Brian McCann, who didn't even let him touch home plate.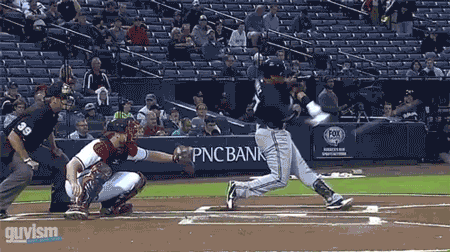 Or this, we'll call 'Carlos takes a tumble,' when he bat flipped on a triple off Gerritt Cole. Cole yelled obscenities at him, Gomez yelled back, and this was the result: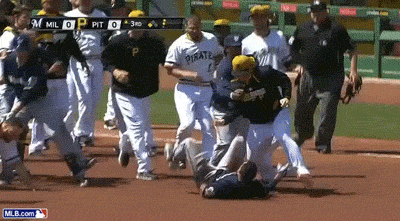 But you may also remember moments like these. Gomez always seems to be at the center of a game's big moments, both bad and good:
And even this, when Gomez made his No. 1 fan's dream come true by surprise inviting her to throw out the game's ceremonial first pitch: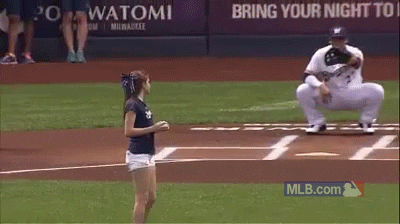 Carlos Gomez is an easy guy to love to hate. He's been at the center of many a bench clearing brawl. But, even at 32, he remains one of the most exciting and richest personalities in the game today. He's the ultimate 'guy you hate to play against but love to have him on your team' type. His brand of baseball has always been electric, unpredictable. And now, in the later stages of his career, he's ready to win, and he's bringing that attitude into camp.
This isn't just some over the hill player signed to a bargain deal, though. Gomez, who led the National League in the enigmatic WAR category in 2013 (He was second only to Mike Trout in all of baseball), is still a league average centerfielder (which will grade plus in right), as well as an above average baserunner. Offensively, he posted a .255/.340/.462 slashline last year, so he can still mash, and 17 of his hits found outfield seats in just 105 games.
Today, he plays his first game in a Rays uniform, playing right field and batting second.
Whether he continues his epic bat flips and off the wall antics remains to be seen. Until then, the Rays have an exciting, undervalued payer looking to do whatever it takes to win. Hopefully, this will be the first of many games Gomez plays in a Rays uniform.